9 Dog-Friendly Stores in Cleveland, OH
Dog ownership in the US isn't what it was decades ago. Dogs have become integral to many households, serving as loyal protectors, beloved companions, and cherished family members. According to the latest statistics, approximately 47% of homes in the US own at least one dog. These four-legged companions are no longer confined to backyards but are treated as family members, enjoying the same comforts and luxuries as their human owners.
As more and more Americans welcome dogs into their homes, society has had to adjust. Today, you will find pet-friendly establishments in every major city in the country. Cleveland, Ohio, is no different. The city takes pride in its dog-friendly culture, and you will find plenty of businesses, restaurants, hotels, and stores that cater to dog owners and their beloved companions. In this article, we'll look at the most popular dog-friendly stores in Cleveland, what they offer, and what makes them unique in a city that loves its furry friends.
Crocker Park 
Crocker Park is an upscale open-air mall in Westlake, Ohio, infused with every element of a bustling downtown. It features trendy brand-name shops, an IMAX theatre, and a range of restaurants. The establishment is dog-friendly, where your dog is welcome to join you at select restaurants and stores. Ideally, whether or not to allow pets inside remains the discretion of the store. However, if a store allows dogs, you must ensure that your furry friend is always on a leash.
The Van Aken District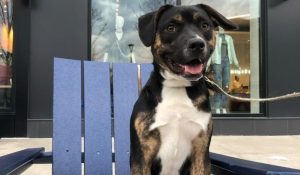 Are you looking to immerse yourself in a one-of-a-kind community? Inspired by the Shaker Heights spirit of craftsmanship, entrepreneurialism, and quality, the Van Aken District offers a unique blend of urban and suburban lifestyles in a city deeply rooted in culture, history, and diversity. It's one of those places in Cleveland that inspires gathering and comes to life through the connections of business owners, residents, restaurateurs, and retailers. The Van Aken District is dog-friendly, so feel free to bring your canine buddy to hang out in the outdoor space, outside communal areas, and restaurant patios.
Appalachian Outfitters 
Appalachian Outfitters is another dog-friendly establishment in Cleveland, Ohio. The family-owned business is built on the belief that people should be able to go outside and explore nature. Because of that, they carry the best selection of outdoor gear. The staff is made up of nature-loving enthusiasts who enjoy spending time in outdoor pursuits. The company even brings the local community together for hiking through the Cuyahoga Valley National Park twice a year. The staff at Appalachian Outfitters ensures that everyone who comes through the door has a fun and relaxed shopping experience. For that reason, the store is dog-friendly, welcoming leashed pets to sniff out the latest outdoor gear with their owners.
Cleveland Clothing Company 
The Cleveland Clothing Company was established in 2008 and has come a long way since then, from printing tees in a basement to being Cleveland's best. The independent family-owned company is your one-stop shop for themed graphic tees, accessories, gifts, and apparel. At Cleveland Clothing Company, dogs are welcome inside to browse the isles for garments and merchandise with their owners.
Lululemon
Lululemon is a purpose-driven brand that creates transformational products and experiences that help build meaningful connections while unlocking greater possibilities and well-being for all. It is a high-end yoga-focused chain offering stylish athletic wear and accessories. The popular athletic clothing brand has a dog-friendly storefront in Woodmere, OH, and your dog is welcome to join you inside as you search for the perfect apparel for your fitness routine.
West Elm 
Located at 411 Park Ave, Beachwood, OH, West Elm is a popular furniture store that believes in supporting the people behind every product you buy through ethical production, economic impact, and worker well-being. 95% of the products sold at West Elm are designed in-house. They also collaborate with artisan collections worldwide to help preserve handcrafting traditions and present opportunities for sustainable employment in rural areas. Your canine sidekick is welcome to join you inside as you choose your new home furniture, kitchen items, and accessories.
Pottery Barn 
For more than 70 years, Pottery Barn has maintained exceptional quality and unparalleled value, and the Cleveland store is no different. Located in Beachwood, OH, Pottery Barn allows dog owners to bring their beloved pets into the store.
Peloton 
Peloton is a dog-friendly fitness store located in Beachwood, OH. Peloton was established in 2012 by a group of fitness enthusiasts who found it hard to balance between workouts, demanding jobs, and family. The fitness store soon grew to the largest interactive fitness platform in the world that also sells the exercise equipment you would need to set up your own home gym. Your dog can join you inside as you browse the isles for the latest fitness equipment.
Milo & Me 
Milo & Me is a dog-friendly boutique at 18117 Detroit Ave, Lakewood, OH. The store was founded on a love for fashion and dogs. The store takes pride in providing quality products for the fashionable woman and her canine sidekick. From the hottest apparel trend to natural dog treats, Milo & Me offers the best for you and your dog. Leashed pups are welcome to shop with you for clothing (women and dogs), accessories, dog bowls, collars, treats, and more.
Preparing Your Pup for a Day Out at one of the Dog-Friendly Stores in Cleveland: Why Professional Dog Training Matters
If you're in Cleveland, Ohio, there is no shortage of places you can go to blow off steam with a bit of shopping in the company of your dog. Whether you are looking for new furniture, sporting equipment, or fashionable apparel, Cleveland has so much to offer in terms of dog-friendly stores.
While shopping with your dog helps you spend quality time with them and strengthens your bond, it's a lot more challenging than it looks. If your dog hasn't mastered basic commands and obedience, it will make for a horrifying shopping experience – for you and the rest of the shoppers.
That's why you must consider professional dog training before taking your pup to any dog-friendly establishment. Off Leash K9 Training of Cleveland is Cleveland's #1 dog training company. Off Leash K9 Training of Cleveland specializes in off-leash obedience training under distraction to give you a pup with the same level of obedience as police and military working dogs.
We have different packages for dogs of all sizes, breeds, and ages. Regarding obedience training, you can choose between the 4-week basic obedience training program or the 8-week advanced obedience training. We also offer a 1-week freedom board & train and a comprehensive 2-week board & train. And suppose your dog exhibits anxiety and aggressive issues that prevent you from taking them outdoors to places where they will meet strangers and possibly other dogs. In that case, we have an 8-week aggression/anxiety package to correct such behavioral issues.
Our training also covers puppy training which we offer through our puppy training consultation package. As you can see, we have packages to suit your needs and budget. Try us today and find out why thousands of Cleveland's dog owners come to us for 100% obedient, 100% off-leash, and 100% distraction-proof pups.