16 Best Dog-Friendly Restaurants in Cleveland, OH
Ready to plan a doggy lunch or dinner date with your canine companion? Then you'll need the most comprehensive list of Dog-Friendly Restaurants in Cleveland! Clevelanders love their pets and love it even more if they can take them to all the restaurants they visit. If you are a dog owner in Cleveland, you would be happy to know that there are more than enough dog-friendly patios in the city. The "dog-friendly restaurant" trend is growing in popularity as people spend more time with their pets and see them as beloved family members. Even better, laws and regulations on where you can take your pet have become more lenient to accommodate the growing number of pet owners. Today, pet-friendly establishments litter every major city. If you are in Cleveland, go for an evening stroll along the banks of the Cuyahoga River or play fetch at one of the local dog parks before enjoying a delicious meal or drink at your favorite restaurant or bar with your furry best friend. Our dogs are our best friends and emotional support animals, so consider fueling up for the evening at one of these dog-friendly restaurants in Cleveland, OH.
Barrio 
Barrio is really the heart of the neighborhood. Established in 2012, Barrio is a dog-friendly restaurant in Cleveland known for its great food and service. Barrio has been voted one of the top taco stands in the US, but they are also known for its vast selection of whiskey, tequila, and beer. The atmosphere is casual, with a unique energy created by the combination of music, décor, and friendly staff. They have a dog-friendly patio where they will happily welcome your pup.
Prosperity Social Club
A relaxed vibe, eclectic clientele, and an unpretentious attitude are what the Prosperity Social Club is all about. The club has a funky, retro-style atmosphere; contrary to the name, nothing is exclusive about it. It is open to anyone who wants to hang out and enjoy the vintage, rustic building structure and Art Deco influences. In addition to their tavern-style brews and foods, they have a game room with vintage board games and an old-fashioned bowling machine. The Prosperity Social Club is quite unique, and they love it when patrons bring their fur babies along for a visit.
Soho Chicken + Whiskey
Pet owners who dine with their pets are given the best seats at the Soho Chicken + Whiskey. The eatery is known for its southern cuisine, with authentic recipes and server services that showcase what it means to show southern hospitality. At the Soho Chicken + Whiskey, you get a taste of why the south is the haven for good food. Treat yourself to a hearty brunch, seasoned fried chicken, or their signature Southern Benedict covered in hollandaise sauce. Located downtown, the dog-friendly restaurant is a short walk away from the Rock & Roll Hall of Fame.
Hofbrauhaus Cleveland
This is another dog-friendly Cleveland restaurant that doubles up as a brewery. Hofbrauhaus Cleveland is German-themed, so get ready to enjoy traditional German cuisines, beers, and even a lively German atmosphere with staff dressed in traditional clothing and live music. There is a 1000-seat Bier Garden where your canine companion can join you. Enjoy some great Bavarian pretzels, apple strudel, and wiener schnitzel with your dog by your side.
Great Lakes Brewing Company
The Great Lakes Brewing Company is among the top breweries in the US and was founded in 1988 by brothers Patrick and Daniel Conway. Located in the Ohio City community, it is Ohio's original craft brewery that's now open for indoor and outdoor dining and takeout. The dog-friendly brewpub welcomes dog parents to the outdoor patio to relax and enjoy their seasonal brews. On top of that, indulge in delicious bar food like burgers, pizzas, appetizers, and shrimp tacos.
Mabel's BBQ
Michael Symon opened Mabel's BBQ in April 2016. The Cleveland-style barbecue restaurant is inspired by a passion and respect for regional barbecue across the U.S. Symon's vision was to create a style that Clevelanders can call theirs. He did that by incorporating Bertman's Ballpark Mustard into the BBQ sauce, smoking the meat over local fruitwood, and using European spices. The arched ceilings, exposed brick, and industrial lighting are a true reminiscent of Cleveland landmark West Side Market evoking a feeling of a rustic smokehouse with a laid-back vibe. Mabel's BBQ has included a large outdoor patio for owners who want to bring their dogs.
Momocho
Momocho is one of Cleveland's best dog-friendly restaurants boasting spacious shaded patios. They are famous for their Mexican dining experience that's only made better with Margherita flight with seasonal flavors like spicy mango, honey-ginger, pomegranate, and pineapple. Mexican cuisines like the carne asada are to die for, not to mention taquitos that come in all types – wild boar, brisket, carnitas, and machaca.
Luxe Kitchen & Lounge
Luxe Kitchen & Lounge is a Mediterranean-Italian bistro in the Gordon Square Arts District. The restaurant is known for its well-rounded menu that is current and approachable. The staff is committed to a high level of service, creating a luxurious vibe for food and music. Enjoy hand-crafted cocktails, music, and food, and feel free to bring your pup to lounge with you on the outdoor patio.
The Old Angle Tavern
Good Fluid · Good Food · Good Feel · Good Face. Named after a 19th-century Cleveland Irish neighborhood, The Old Angle Tavern is open-ended but not bland, with a crowd that's somewhere between beer-swilling and hip. Enjoy traditional Irish dishes, typical pub foods, and a drink menu devoted to Irish draught mixes and whiskeys. Well-behaved dogs are welcome to join their patrons for a fun evening.
Johnny's Downtown 
The dog-friendly restaurant was established in 1993 and is located in a refurbished building in the Warehouse District. The upscale restaurant serves delicious Italian cuisines like pasta, fish dishes, and veal. Johnny's Downtown allows dogs to join their humans on the spacious outdoor patio.
Nano Brew Cleveland
Located at 1859 West 25th Street, Cleveland, OH, Nano Brew Cleveland is a dog-friendly restaurant with 20 outdoor tables on a spacious, pet-friendly patio. Enjoy craft beers and specialty pub food like Mac N Cheese Bites and Everything Pretzels. They also have a delicious selection of vegetarian, vegan, and gluten-free options.
Market Garden Brewery 
Market Garden Brewery has since 2012 brewed bold and award-winning beers in the beautiful Ohio City neighborhood. The brewpub and restaurant boasts of a creative chef-driven menu that changes based on the seasonality of local and organic ingredients. The restaurant has a beautiful, peaceful patio where all dogs are welcome. And it's located right next to the West Side Market.
Platform Beer Co.
Platform Beer Co. was founded in 2014 and is a local leader in innovative beers. The dog-friendly bar has a sophisticated yet laid-back vibe. They serve draft beers and fresh deli sandwiches. If you are into classy bars with a casual atmosphere, this is it! Feel free to tag along your furry friend to sit with you on the pet-friendly outdoor patio.
Lindey's Lake House
Lindey's Lake House boasts a dog-friendly patio from where you can watch boats navigate the mouth of the famous Cuyahoga River. The sounds of the river flowing are enough to calm your furry friend as you enjoy seafood delights and a bar of handmade cocktails.
Proof Bar-BQ 
The high ratings prove that Proof Bar-BQ is one of the best restaurants in Cleveland to visit with your pet. They are famous for their pork nachos loaded with tender, stringy meat, hot cheese, and spicy jalapenos. Sides like baked beans and mac and cheese make every dining session feel like a summertime cookout. The back deck is a gated patio with lots of seating where pet parents can dine with their fur pals.
BrewDog
BrewDog has a large outdoor seating area where pet owners can enjoy craft beers and bar food with their pets by their side. The dog-friendly restaurant sits on the edge of the Scranton Peninsula on the banks of the Cuyahoga River. The contemporary rustic outdoor setting, designed with construction beams, stand-alone wooden benches, and seating around a fireplace, creates a retro vibe that's hard to find elsewhere. At night, it is lit by aesthetically-pleasing lights, making the riverside setting even more enjoyable with your pup.
Recapping the Best Dog-Friendly Restaurants in Cleveland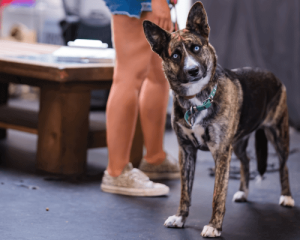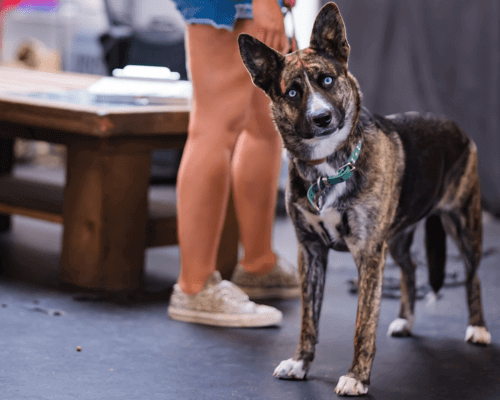 These are just a few dog-friendly restaurants in Cleveland, OH. What is clear is that Cleveland is a dog-loving city. With all the many pet-friendly restaurants, you never have to leave your furry friend at home again.
However, while eating out with your pet makes for a fun experience, it can also be a nightmare if your dog isn't properly trained. Dog-friendly restaurants are welcoming to well-behaved dogs only. If your dog is aggressive to strangers or other dogs or can't stay in one place or listen to a single command, then dining out is not an option.
While you can train your dog by yourself, it won't have the same impact as a professional dog trainer. Luckily, Cleveland's #1 Dog Trainers are just a call away. Off Leash K9 Training of Cleveland is part of the highest-rated dog training business in the United States. We specialize in private lessons, dog behavior consultations, and teaching pet owners how to understand and relate with their dogs. Our training is focused on training dogs to have the same level of obedience as police and military working dogs and works for dogs of all ages, breeds, and sizes.
We've trained thousands of household dogs and can offer you and your pet an exceptional level of obedience that allows you to bring them anywhere and everywhere without worrying about them getting out of control. What sets us apart is our approach to training – off-leash and with distractions to give you a 100% obedient, 100% off-leash, and 100% distraction-proof pup in no time.